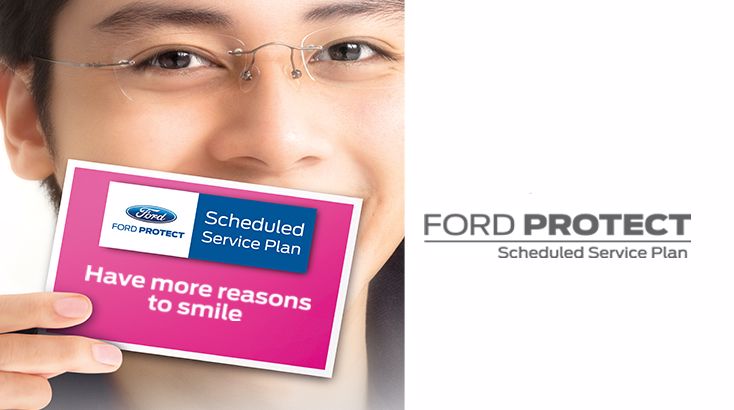 SCHEDULED SERVICE PLAN
Book a Service Send us an Enquiry
Scheduled Service Plan (SSP)
The Ford Scheduled Service Plan is a pre-paid maintenance plan that covers the Ford vehicle for up to a 5-year period from the date of purchase, thus shielding the owner from future price increases on parts and labor. This also eliminates repeatedly paying out for service maintenance visits. It is a cost-efficient way to ensure that the owner's investment is protected through a scheduled service maintenance program undertaken by Ford trained technicians using genuine Ford Parts.
The Ford Scheduled Service Plan is 100% transferable. So if you ever decide to sell your vehicle, the new owner can take advantage of the same great coverage. This added benefit may help attract potential buyers, plus it could bring an increased resale value for your vehicle. Transfer fee and restrictions apply.
The Ford Scheduled Service Plan is available in the following plans:
24 months / 40,000km
36 months / 60,000km
60 months / 100,000km
FLEXIBILITY TO SUIT YOUR NEEDS
Scheduled Service Plan (SSP) can be purchased at any Ford dealership within the period of a new car purchase up to 6 months/10,000 Km, whichever comes first.
WHAT IS COVERED?
Your vehicle owner's manual or warranty booklet specifies the complete list of checks, repairs and replacements that need to be completed as normal scheduled servicing for your vehicle at regular intervals. Ford Scheduled Service Plan covers the same in full. Following are some, but not limited to*, the typical checks, repairs and replacements that will be performed on your vehicle. The actual checks, replacements and repairs on your vehicle depend on the type of plan you chose.
Change engine oil and replace oil filter (at specific intervals)
Replace engine coolant (at specific intervals)
Replace air and fuel filters (at specific intervals)
Lubricate and adjust wheel bearings
Inspect half shaft boots (if equipped)
Inspect and rotate tires
Inspect automatic transmission fluid level
Inspect engine cooling system, hoses and clamps
Inspect steering linkage, ball joints, suspension and driveshaft
Inspect the brake system
Check and adjust the air pressure in all tires
Check and refill coolants and fluids
Check the operation of the horn, exterior lamps, turn signals and hazard warning lights
Check windshield washer spray and wiper operation
Check the parking brake
Check and lubricate all hinges, latches and locks
Check battery connections
Check and lubricate door weather strips
Check and drain fuel/ water separator (diesel)
Change manual transmission fluid (at specific intervals for specific models)
Visually inspect the cooling system
Visually inspect the exhaust system
*Contents may vary without prior notice
SCHEDULED SERVICE VALIDITY
The SSP is only valid within the period and terms specified by the given interval (i.e. 6 months or 10,000 kilometers whichever comes first). The clause "whichever comes first" must be strictly followed when availing the services covered by the SSP. This will help ensure that your vehicle gets the right servicing at the right time to maximize its performance.
Visit your Ford dealership and ask about the Ford Scheduled Service Plan today.
---
The information contained on the following pages is of a general nature and does not replace the policy terms and conditions of each product. You should refer to each policy booklet at your participating Ford Dealer for specific details, terms and conditions and exclusions.
SSP Pricing
SSP Video